Signup is available during your first 30 days of employment*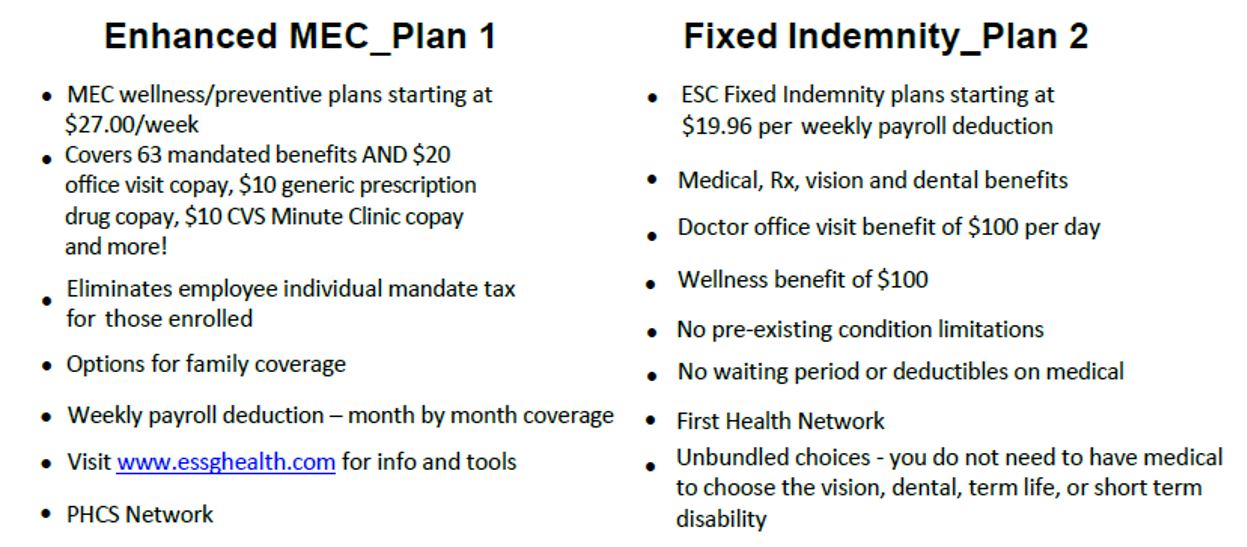 *Other qualifying events include open enrollment, marriage, divorce, birth of a child, etc.  If you think you might be qualified to enroll/cancel/change outside of your first 30 days, please give us a call at the number below for assistance.
ESSG offers an Enhanced Minimum Essential Coverage (Plan 1) which is administrated by Health EZ. The
Minimum Essential Coverage (MEC) plan is ACA qualifying. There are copays for services like doctor's visits,
x-rays, and generic prescription drugs. Please note – hospitalization is not a covered benefit.
ESSG offers a Fixed Indemnity Plan (Plan 2) which is administrated by Planned Administrators Inc. (PAI). The
Fixed Indemnity Plan offers limited benefits at an affordable price, specifically for the staffing industry. Affordable medical, dental, vision, disability, and life insurance benefits are
available.
Premiums for both plans will be automatically deducted from your weekly paycheck. This means you are buying it with pre-tax dollars. What does "pre-tax dollars" mean? It simply means the premium comes out before taxes are taken out, so you are taxed on less income.
If you have questions or need assistance, please contact the Health Benefits Team:
Health Benefits Team
Employer Solutions Staffing Group
952-767-9519
health@employersolutionsgroup.com