OPTIONAL:  Open Enrollment: July 28 – August 26, 2020
(For the Enhanced MEC Medical Plan 1  and the Fixed Indemnity Benefits Plan 2)
Click here for the 2020 ESSG Health Benefits Enrollment Packet
1.       The Enhanced MEC Medical Plan 1 is available to all employees!*  This plan is administered by HealthEZ, and it includes co-pays for services like doctor's visits, urgent care and generic prescription drugs. Hospitalization is not a covered benefit under this plan.  The rates seen in the packet (above) are based on weekly deductions and coverage runs month-to-month.
2.       Our Fixed Indemnity Benefits Plan 2 options are also available to all employees,* including Fixed Indemnity Medical, Dental, Vision, Term Life and Short-Term Disability.  This coverage is administered by Planned Administrators, Inc.  You are not required to be enrolled in the Enhanced MEC Medical Plan 1 to enroll in any of these additional options. The rates seen in the packet (above) are based on weekly deductions and coverage runs week-to-week.
See the flowchart below for instructions on enrolling/changing/terminating coverage.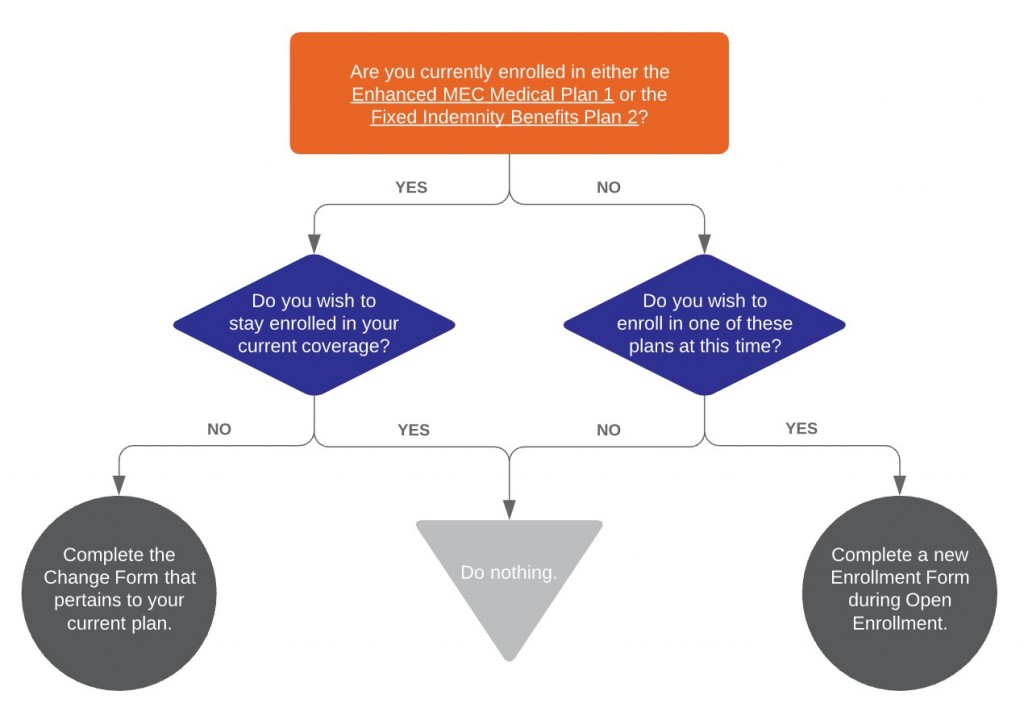 NO ACTION = NO CHANGE
Enroll NOW! Follow this link to complete an enrollment form. ESSG will process the form the week that it is received. The form contains plan summaries, FAQs, and information to help you understand the timeline.

If you are interested in changing (or cancelling) an existing policy, click on the appropriate link below:
*All employees may enroll during their first 30 days of employment, during open enrollment, or within 30 days (with proof) of a qualifying life event.
---
***
Important Notice Regarding COVID-19:
As the Coronivirus (COVID-19) continues to spread through the United States, we remain here to support you.  We are not currently experiencing any delays in enrollment processing timelines.
For the most timely response, we do highly recommend contacting our team via e-mail (at health@employersolutionsgroup.com).  You may also submit your questions through this website by going to the "Contact Us" page.  In either case, please provide your full name, birth date, and the last four digits of your social security number.
3/16/2020
***
---
If you have questions or need assistance, please contact the Health Benefits Team:
Health Benefits Team
Employer Solutions Staffing Group
952-767-9519
health@employersolutionsgroup.com